COURSE Team Building & Management
Team Building Masterclass: Building Teams Virtually
In this course student will lean how to work as a team to achieve a goal
Created by
Davida Shensky
About this course
A team is a group of individuals, all working together for a common purpose. The individuals comprising a team ideally should have common goals, common objectives and more or less think on the same lines. Individuals who are not compatible with each other can never form a team. They should have similar if not the same interests, thought processes, attitude, perception and likings.
Difference between Group and Team

A group is not necessarily a team. A group can have individuals with varied interests, attitude as well as thought processes. It is not necessary that the group members would have a common objective or a common goal to achieve.

What happens in a political rally? The political leader appeals to the individuals to cast the votes in his favour only. Do you think all of them would cast the votes in favour of the leader? There would always be some individuals who would support his opponent. This is an example of a group. All individuals gathered on a common platform but had dissimilar interests and likings. Some were in favour of the leader while some against.

A team must have individuals with a common objective to achieve. They should all work together and strive towards the achievement of a common goal.

What happens in a cricket team?

All the players have a common focus and a common objective. Everyone, the captain, the wicketkeeper, the bowlers, the fielders all work together to achieve a common target i.e. win the game. No one ever thinks of losing the game.

It is not only the individuals who form a team; even animals can constitute a team. Go to any hill station and one can spot many horses all working for a common goal i.e. Carry people to the hilltop and bring them back.
Team members

The team members must complement each other. All team members should help each other and work in unison. Personal interests must take a back seat and all of them must deliver their level best to achieve the team objective. Team members must not argue among themselves or underestimate the other member.

Organizations have a sales team, administration team, human resources team operation team and so on. All the members of the sales team would work together to achieve the sales target and generate revenues for the organization.
Team Size

The team size depends on the complexity of the task to be accomplished. Ideally, a team should consist of 7-10 members. Too many members also lead to confusions and misunderstandings.

It is not always that we require a team. Teams should be formed when the task is a little complicated. A single brain can sometimes not take all critical decisions alone, thus a team is formed where the team members contribute equally making the task easy. A team can actually create wonders if all the team members work in unison.
What you will learn?
Learn how to communicate effectively in a team
the qualities of team members
work as a team even though working virtually
Skills Covered
PROJECT MANAGEMENT TECHNIQUES
LEADERSHIP FUNDAMENTALS
(HR) General
2.5 hours on-demand video
Certificate of completion
Preparation required

Interest in personal development
---
---
100% moneyback guarantee
If you cancel within 10 days and you're not completely satisfied, we'll give you all your money back. No questions asked.
Training 2 or more people?
Get your team access to 1,610 top CPD HR Canada courses anytime, anywhere.
Section 1. Qualities of a Successful Team-Part1
Team Building Masterclass Building Teams Virtually Preview
4m 21s
Team Building Masterclass Build Teams Virtually Module 1
4m 29s
Qualities of a Successful Team Lesson 1
5m 4s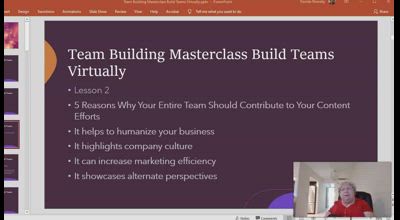 Qualities of a Successful Team Lesson 2
5m 13s
Qualities of a Successful Team Lesson 3
3m 11s
Qualities of a Successful Team Lesson 4
4m 10s
Qualities of a Successful Team Lesson 5
4m 45s
Section 2. Qualities of a Successful Team-Part2
Section 3. Qualities of a Successful Team-Part3
Section 4. Qualities of a Successful Team-Part4
Section 5. Qualities of a Successful Team-Part5
Section 6. Communicating Effectively as a Team-Part1
Team Building Masterclass Build Teams Virtually Module 2
4m 41s
Communicating Effectively as a Team Lesson 1
4m 2s
Communicating Effectively as a Team Lesson 2
4m 13s
Communicating Effectively as a Team Lesson 3
4m 37s
Communicating Effectively as a Team Lesson 4
4m 24s
Communicating Effectively as a Team Lesson 5
4m 29s
Section 7. Communicating Effectively as a Team-Part2
Section 8. Communicating Effectively as a Team-Part3
Section 9. Communicating Effectively as a Team-Part4
Section 10. Communicating Effectively as a Team-Part5
Section 11. Team Building Models-Part1
Team Building Masterclass Build Teams Virtually Module 3
4m 16s
Team Building Models Lesson 1
3m 22s
Team Building Models Lesson 2
4m 14s
Team Building Models Lesson 3
4m 34s
Team Building Models Lesson 4
3m 21s
Team Building Models Lesson 5
3m 21s
Section 12. Team Building Process-Part1
Team Building Masterclass Build Teams Virtually Module 4
4m 59s
Team Building Process Lesson 1
3m 38s
Team Building Process Lesson 2
4m 10s
Team Building Process Lesson 3
4m 7s
Team Building Process Lesson 4
3m 34s
Team Building Process Lesson 5
4m 50s
Section 13. Challenges of Managing a Virtual Team-Part1
Team Building Masterclass Build Teams Virtually Module 5
4m 35s
Challenges of Managing a Virtual Team Lesson 1
3m 9s
Challenges of Managing a Virtual Team Lesson 2
4m 10s
Challenges of Managing a Virtual Team Lesson 3
3m 48s
Challenges of Managing a Virtual Team Lesson 4
3m 53s
Challenges of Managing a Virtual Team Lesson 5
4m 18s
Section 14. Team Building Exercises-Part1
Team Building Masterclass Build Teams Virtually Module 6
3m 26s
Team Building Exercises Lesson 1
2m 38s
Team Building Exercises Lesson 2
2m 57s
Team Building Exercises Lesson 3
2m 44s
Team Building Exercises Lesson 4
3m 3s
Team Building Exercises Lesson 5
2m 24s
Team Building Masterclass Build Teams Virtually Review
3m 10s
Learn from the best
I want to help entrepreneurs take their online business to the next level. That includes: 1. Overcoming your limiting beliefs that cause you to put the breaks on before you reach your goals. 2. Incorporate digital marketing into your online marketing action plan 3. Create Multiple Streams of Income by re-purposing your products 4. Improve your communication skills so you can communicate more effectively and close more sales The term Live Without Limits is a mindset where you believe in yourself and your abilities to succeed. As a Career and Personal development Strategy Coach I work with clients to build their online presence and build relationships with customers and prospects online. She holds an AAS in Mental Health, BS in Psychology, and credits towards a Masters in Rehabilitation Counseling (employment counseling for people with disabilities). She attended Toastmasters and received both the CTM and ATM certifications. As member of NSA-GA Chapter she participated in their mentoring program and put together a speech Success is my Only Option! She attended the American Seminar Leaders Association University and received the Certified Seminar Leader (CSL) Certification. She participated in the Stores Online Presentation on SEO. She is Certified as both a Laws of Attraction & Life Coach. She has a podcast called Live Without Limits